Labor of Love

Yale School of Architecture
Spring 2020
Critics: Pier Vittorio Aureli / Emily Abruzzo

Serena Ching
Kay Yang

H.I Feldman Nominee
Our proposal for San Cesareo is to socialize and externalize reproductive care beyond the traditional notions of the family and domestic space, in order to subvert the exploitative connotation of the phrase 'labor of love'. Our project challenges the spatial and social enclosure of care within the home and the nuclear family by eroding the boundaries between the private and public. Through renovation and self-construction, our proposal reconfigures domestic space and externalizes them into diffused elements of care beyond the confines of the home.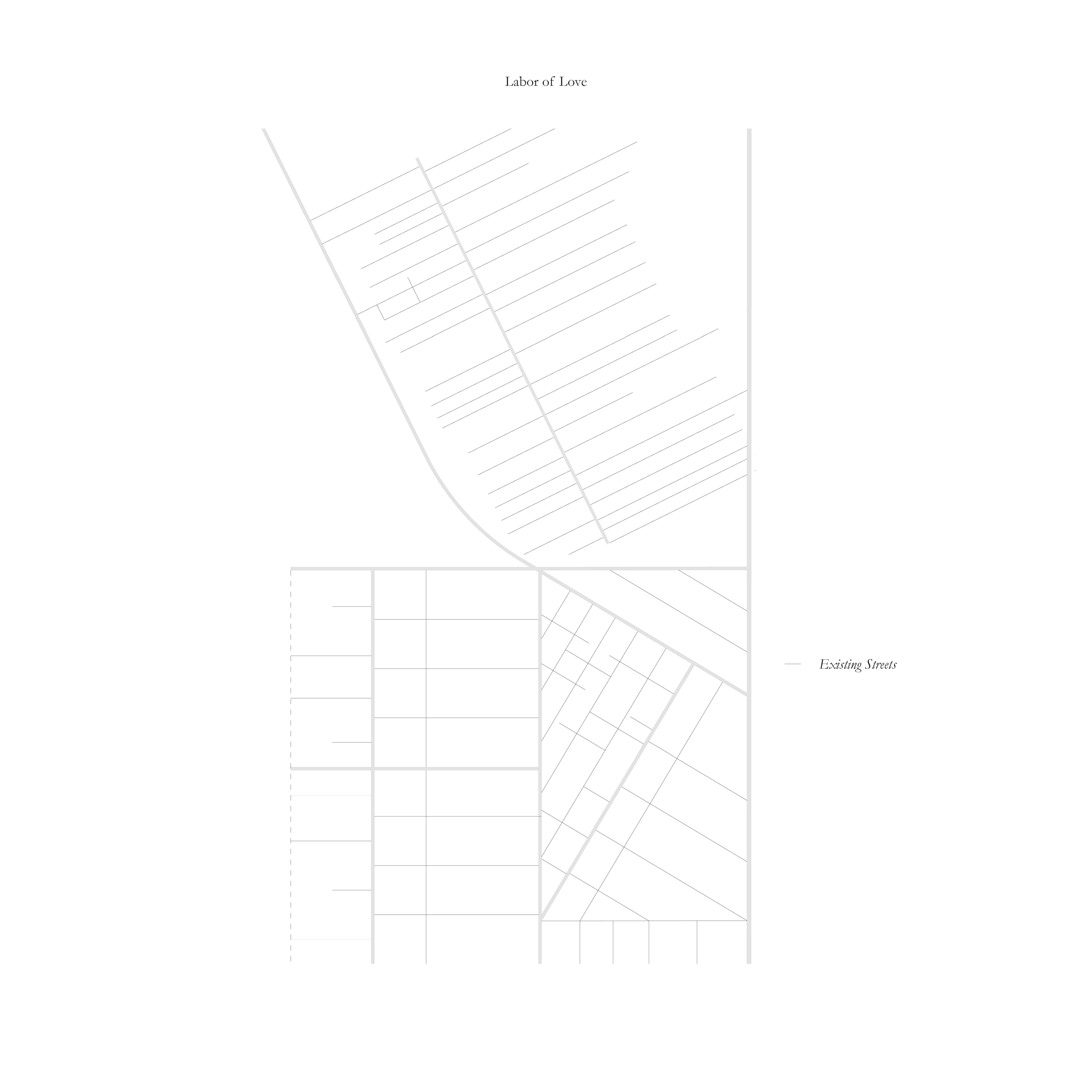 We see a potential in bridging the disparate areas of the San Cesareo through boundary commoning by creating space and rituals for reproductive and productive labor. The abstracted site diagram illustrates how the 'confetti' of elements are incrementally adopted and eventually becomes a full fledged transformation of the entire community, where the goal is to create a diffused tapestry of small scale commoning interventions.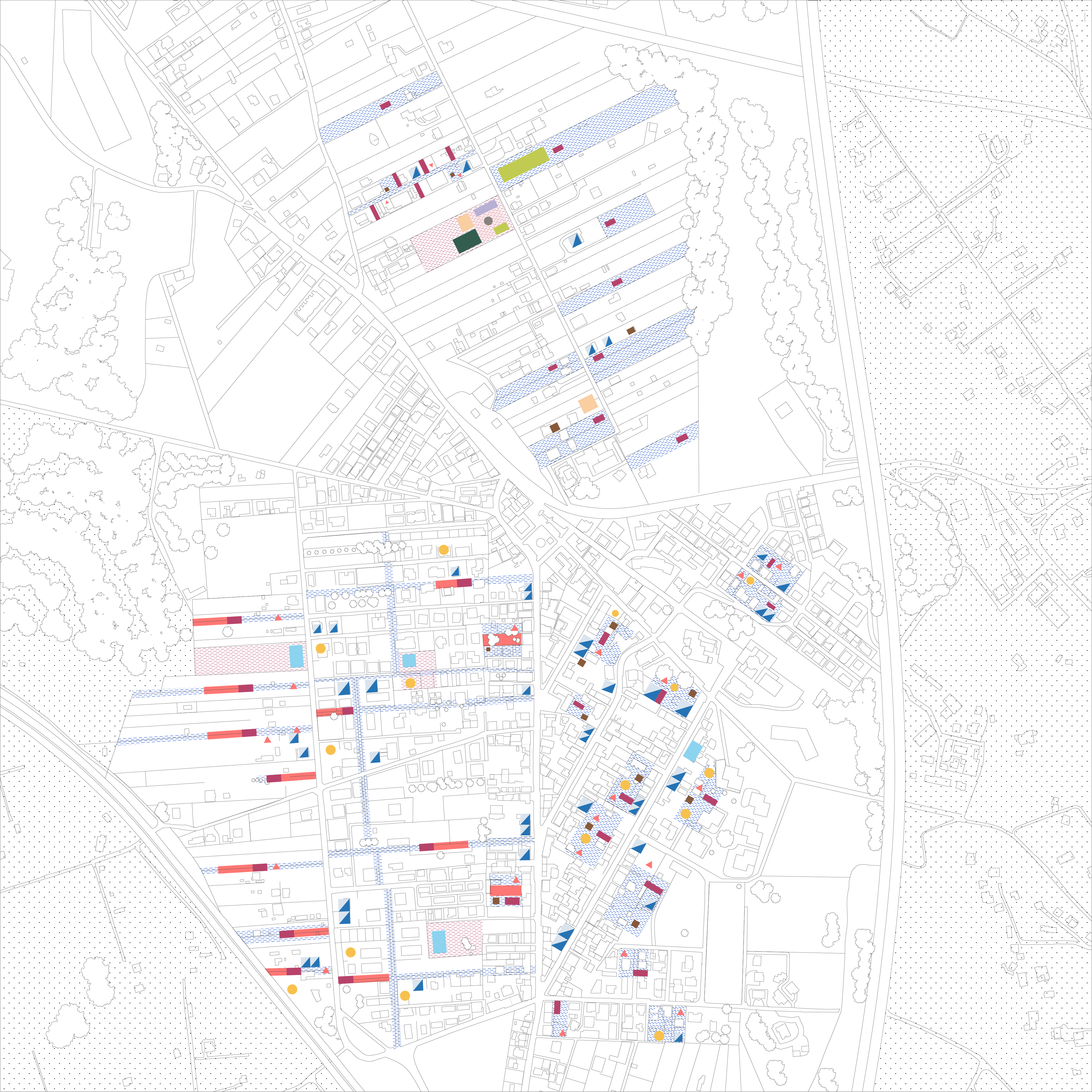 Toolkit 1: Renovation Manual for Palazzinas
Our commoning proposal consists of two strategies. The first begins by providing basic building skills to self-organize and renovate existing palazzinas in San Cesareo to support spaces that overlap care with productive income on ground floors and co-living on the upper floors. The idea is to challenge the enclosure of care and family to make visible the exploitation of domestic labor and immigrant caregivers.
The renovated palazzinas can be configured to accommodate spaces
for productive and reproductive care.
Toolkit 2: Construction Manual for Sheds
The second part of our strategy is the construction of elements. Ultimately, as needs arise and productive income is generated, households can build new pavilions and barns for care and production. The addition of new facilities that are typically inside the house introduces the idea of the diffused home, where labor is made visible and care is socialized. We work with the scale and density of each of the three sites through a construction manual and a kit of parts.
The small backyard pavilions for care take on a 3m x 3m module white the larger production barns are 6m x 6m. As these elements are incrementally introduced and households are willing to extend responsibilities beyond their homes, the settlement is transformed into a landscape of commoning practices.
Neighborhood-specific Strategies
San Cesareo is a 382-Acre Comune located southeast of Rome. Founded in 1929, various historical developments by the Fascist government, developers, and illegal settlers led to a layered but disconnected settlement with a dense central area in the south (Site A), developer led housing in the west (Site B), and agricultural strip lots for small cultivation in the north (Site C). We propose three neighborhood specific strategies through which these elements of care and production can begin to transform the settlement to better facilitatecommoning practices.
Site A: Dense Historic Center
The area is composed of densely layered residential blocks with small backyards. There are many driveways leading to sheds and small backyard gardens that are completely fenced off from neighbors, and alleys with underutilized sheds.

Site A: Neighborhood Block Before Commoning
Site A: Neighborhood Block with Renovated Ground Floors and small Backyard Sheds


Site A: The Back-Court-Yards

Site A: Transformed Back-Court-Yards
Site B: Developer Palazzinas
There is a clear grid logic of subdivided developer housing with larger vacant lots and abundant parking spaces on the street. Street walls directly at the street edges enclose front yards and discourage pedestrian access. There is a problem of over-paving even in the sideyards of palazzinas, and interstitial roads often lead to dead ends.
Site B: Developer Blocks Before Commoning
Site B: Renovated Ground Floors and Kitchen Gardens replace fences.
Site B: De-paved Boulevards connect and extend care beyond the house.
Site B: The De-Paved Boulevards
Site C: Agricultural Strips
Site C is composed of agricultural strips with sparse palazzinas. Housing set far back from the streets with vineyards and gardens in front are typical. Some srreets have been fully privatized by residents and there is a potential need for outdoor recreational space.
Site C: Agricultural Strips before Commoning
Site C: Shared playgrounds and Dedicated Commons for shared Production Sheds.
Site C: Market Hall and Plaza that hosts a Wine and Olive Press alongside an Agricultural School
Site C: The Plaza
---
︎RE: Hudson Yards